Synopsis
(3M/3W)
A post-apocalyptic vaudeville, Dog Act follows Zetta Stone, a traveling performer, and her companion Dog, a young man undergoing a voluntary species demotion, as they walk through the wilderness of the former Northeast U.S. with their little troupe. They are heading toward a gig in China, if they can find it—and if they can survive to reach it.
Published and licensed by Playscripts, Inc.; for acting editions and production rights, click here. Also published in the Underwords Press anthology, "Geek Theater."
Premiered by Shotgun Players with the Playwrights Foundation, San Francisco 2004. Subsequent productions at Moxie Theater, San Diego, 2005 and 2009 (revival); Flux Theater Ensemble, NYC, 2011; Main Street Theater, Houston, 2012; Winnipeg Fringe Festival, 2013; Theatre on Fire, Charlestown MA, 2016. University productions at Mississippi State, Arizona State, SUNY Orange, University of Denver, and Fordham University. Workshopped at Bay Area Playwrights Festival and Portland Stage Company's Little Festival of the Unexpected. Winner of the Will Glickman Award.
Flux Ensemble Theater. Directed by Kelly O'Donnell. Set Jason Paradine, lights Kia Rogers, costumes Lara de Bruijn. Cast: Becky Byers, Liz Douglas, Lori E. Parquet, Zack Robidas, Julian Stetkevych, Chris Wight. Photographer: Isaiah Tanenbaum
Moxie Theatre's 2009 revival (of their 2005 production). Set Been Salzer, costumes Michelle Hunt-Souza, lights Ashley Jenks and Chelsea Whitmore, props Amy Chini. Cast: Jo Anne Glover, Sylvia M'Lafi Thompson, Jason Connors, Rob Kirk, Justin Lang. Photos: Erin Bigley
Fordham University, directed by Peter Gil-Sheriden. Set Anita Fuchs, costumes Leyla Pearl, lighting Ryan Seelig. Cast: Anya Krawcheck, Nadia Hulett, Nicole Ventura, David Jackson, Jason Zeren, Chris Barlow. Photographer: Gerry Goodstein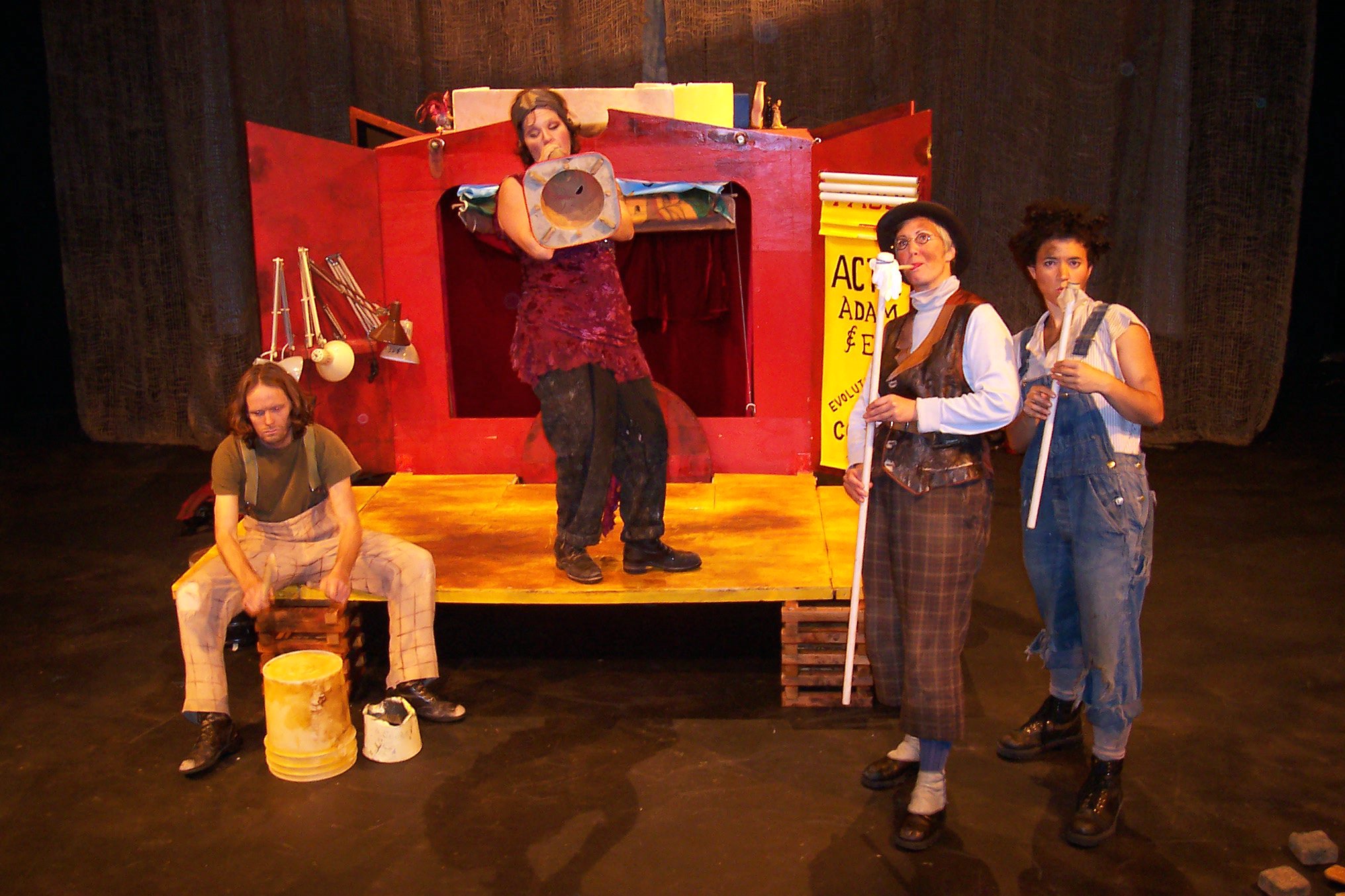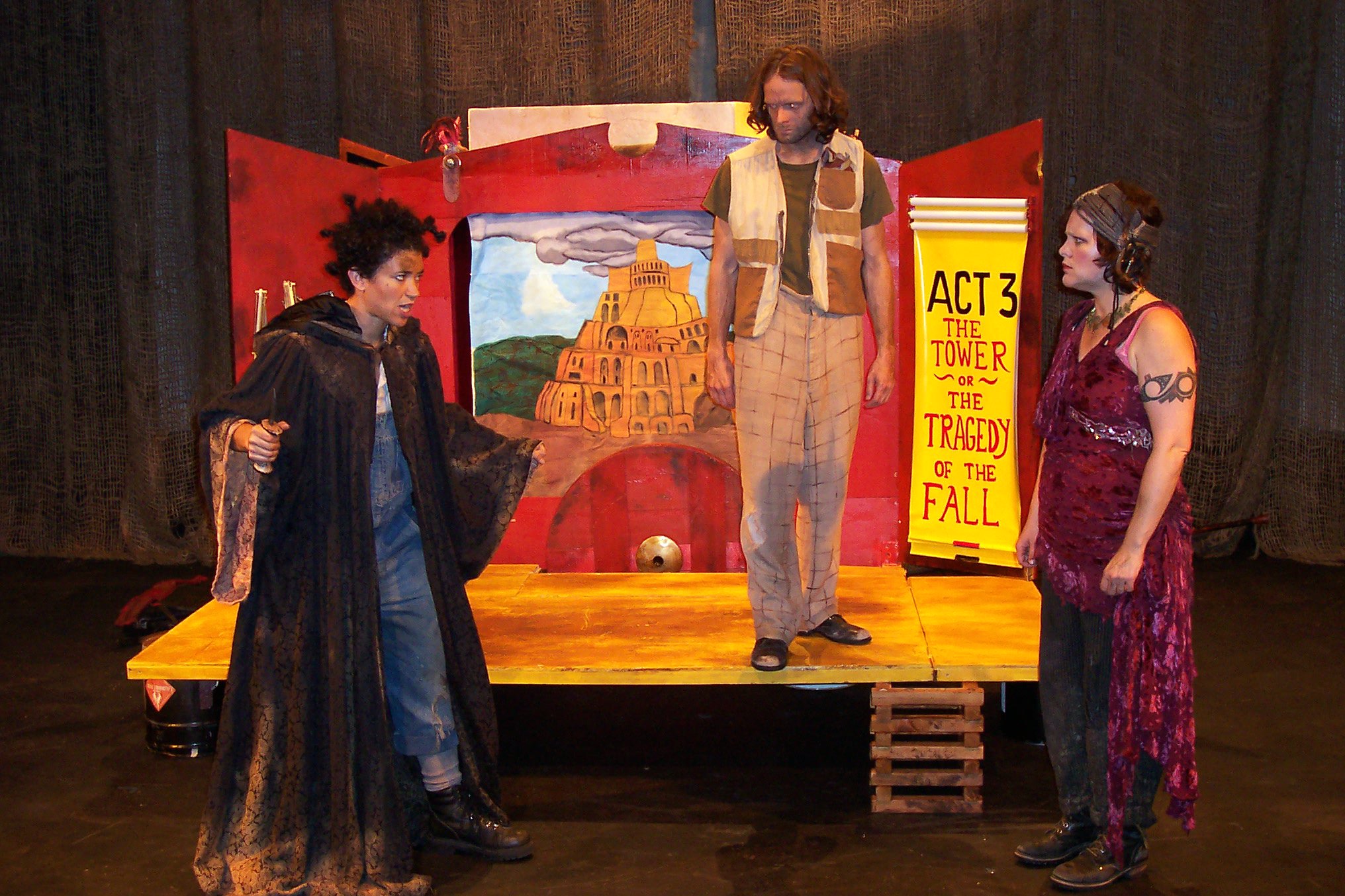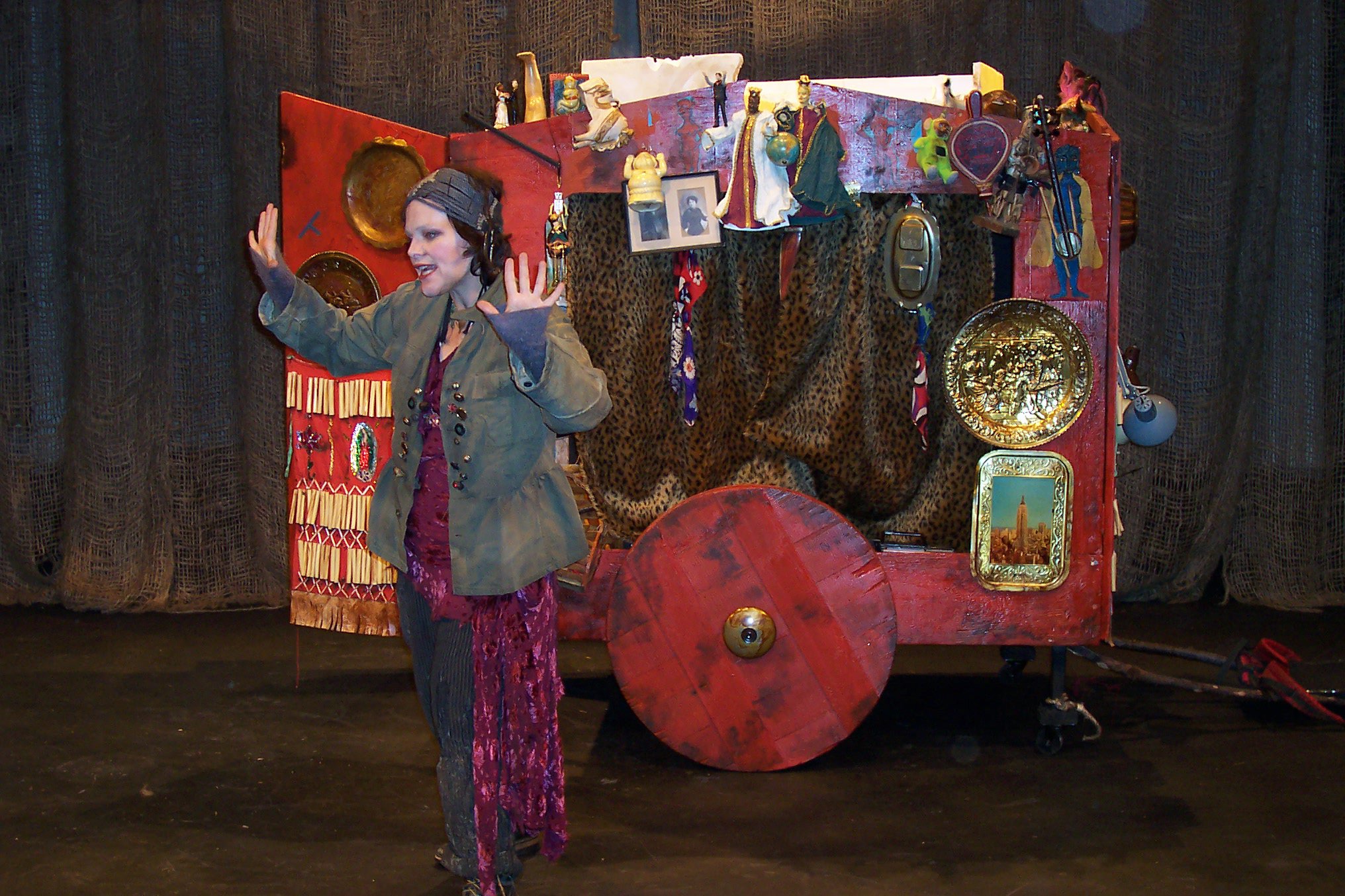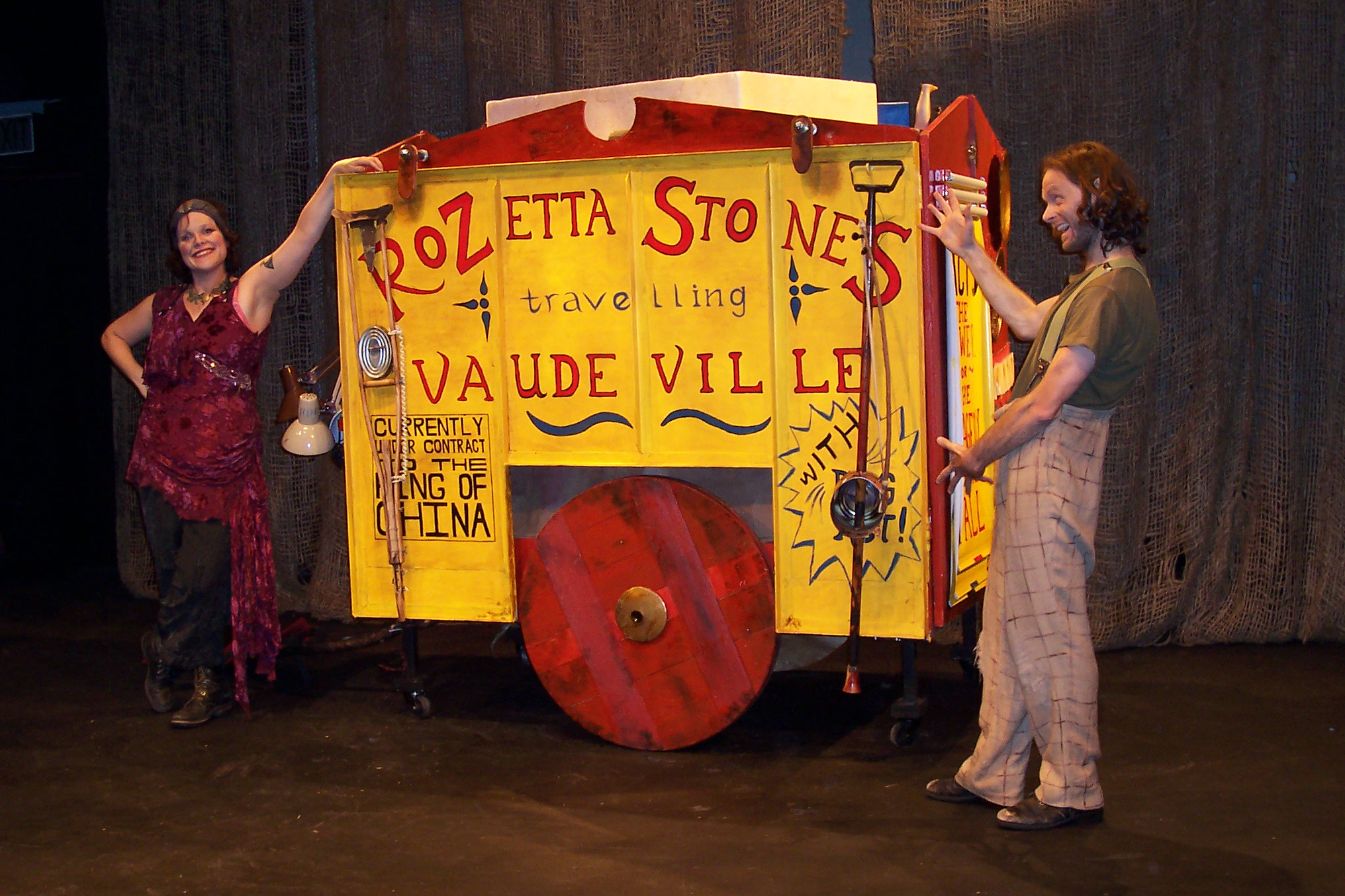 Shotgun Players premiere. Directed by Kent Nicholson. Set Praba Pilar and Stewart Port, lights Rob Anderson, costumes Valera Coble. Cast: Beth Donohue, Richard Bolster, Eric Burns, Dave Maier, Dianne Manning, Rami Margron. Photographer: to come.
In the Press
"A brilliant blend of savagery and poignancy, the play succeeds in being humorous and thoughtful in equal measures, an elegy for humanity and a rollicking road story. A highly recommended experience."—John Peacock, Flavorpill. Click here for full review.
"Culture is a mutable, imperiled and hilariously vigorous thing in the post-apocalyptic world of Liz Duffy Adams' Dog Act.… It's a bright dystopian blend of pop and high culture… peppered with astonishing and exhilarating eruptions of storytelling and wondrous plays within the play…. Adams' vaudeville routines are each a stroke of genius…. The monologues by each of the performers are near classics of their kind. Best of all is 'The Mortality Play...' a blissfully eclectic history of humanity… Dog, as they say, has legs." –Robert Hurwitt, San Francisco Chronicle. Click here for full review.
"A fresh, word-drunk comedy by Liz Duffy Adams. Her deftly experimental yet highly entertaining Dog Act is riddled with Shakespearean resonance, conjuring a post-apocalyptic and post-literate world. Yet, it's as keenly intelligent as a comedy by language poet Mac Wellman. Dog Act introduces a playwright who has a lot to say, though in a hip, street-smart way – that is, obliquely. …Analyzing Adams' virtuosic technique tends to deaden its exhilarating effect. Her approach is light, her tone buoyant, and the echoing references to Shakespeare or the Bible or "Peter Pan" come and go in a flash, like lightning. The dialogue doesn't provoke the listener to struggle to make sense of the various argots; instead it shocks the listener wide awake to enjoy the malleability, the beauty and the strangeness of the words by which we communicate – or don't." –Anne Marie Welsh, San Diego Union-Tribune. Click here for full review.
"Dog Act is a meditation on religion, civilization, responsibility, morals, the implacability of the life force, and how the arts/media bring meaning to people's lives. It's also extremely entertaining, breathtakingly imaginative, and quite funny… . As a reviewer, I sometimes feel tired and jaded. It can seem as though everything has been said and all that's left for theatre is different combinations of tired tropes and creaky cliches. But then I see something like Dog Act (although there really isn't anything like Dog Act) and I am reminded of theatre's power and beauty."—Wendy Caster, ShowShowdown. Click here for full review.
"The real triumph of the two-act, two-hour Dog Act is that it manages to become more interesting with each scene. Adams spins language like a juggler twirls chain saws. What could be dangerous and lumbering becomes deft and surprisingly graceful…. Dog Act is an unusual, challenging play that creates its own rules but honors the oldest rule of all: good storytelling is its own reward." – Chad Jones, Oakland Tribune. Click here for full review.